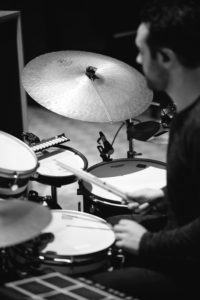 I'm Ben, and I'm from Seattle. Since 2011, I've been based in LA and have enjoyed recording and touring with SOHN, Conrad Sewell, Rozzi, The Freddy Jones Band, The Samples, The Ceremonies, and others.
I also manage LA roots label, Forty Below Records, where I work in many capacities with John Mayall, Bill Carter, Sam Morrow, and others.
I'm proud to use great products from DDrum, Roland, JH Audio, and Big Fat Snare Drum.
Sunrise TV Australia
TVNZ New Zealand
Battle Scars by Walter Trout (2nd Engineer, Additional Engineering)
Spotify Sessions by SOHN (Drums)
Spotify Sessions by Conrad Sewell (Drums)
America by The Samples (Drums, Percussion, Programming)
There is No Map by Sam Morrow (2nd Engineer)
Ghost on Me by Devin O'Rourke (Producer, Mixing, Drums)
Southern States to the West Coast by Matt Mann and the Shine Runners (Drums)
See You On Down The Road by Matt Mann and the Shine Runners (Drums)
Lemmo by Lemmo (Producer, Engineering, String Arrangement)
Live From 404A by Lemmo (Drums, Engineer, Mixer)
Frenemy and Cold As Ice by Stacy Citron (Producer, Engineer)
Seneca And The River by Seneca And The River (Drums)
That Whole Entire Time by Amy Loftus (Drums)
Are You Happy Now by Fina Dupa (Drums)
Feather by Remember May (Drums)
Find a Way to Care by John Mayall (Assistant Engineer)
A Light That Never Dies by KaiL Baxley (Assistant Engineer)
The Blues Came Callin' by Walter Trout (Assistant Engineer)